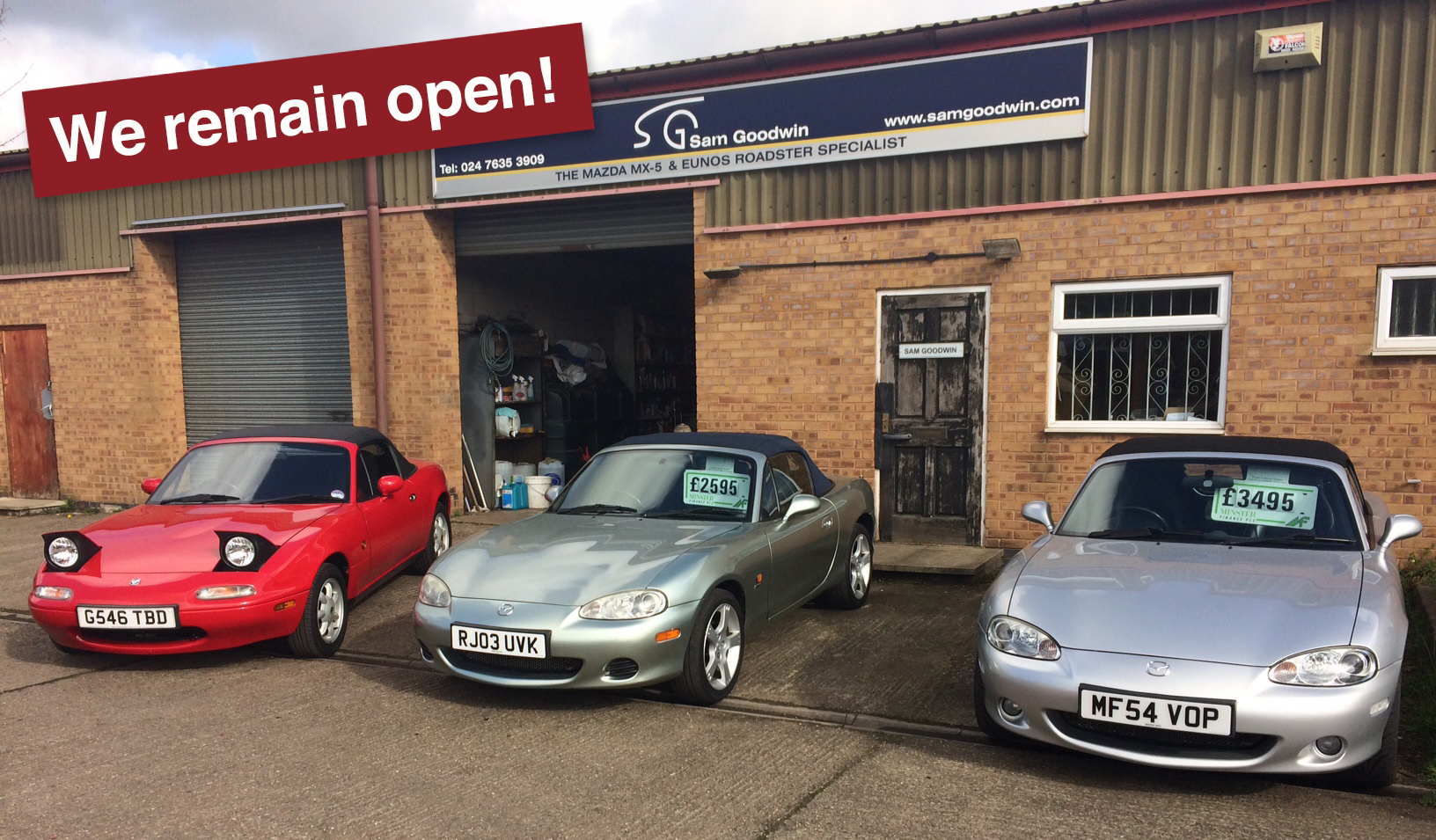 Sam Goodwin Mazda MX-5 Specialists based in the heart of the West Midlands
SPECIAL NOTICE
We remain open during the latest lockdown and are following government guidance to keep everyone safe.
Monday > Friday: 8am – 4:30pm
Saturday: Closed
Call us on 02476 353 909 or email sam@samgoodwin.com 
Address: Unit 2 Kelsey Close, Nuneaton CV11 6RS
We are breaking Mk1, Mk2 & Mk2.5 cars – All parts available!
At Sam Goodwin we really are the experts for the servicing needs of your Mazda MX-5 / Eunos Roadster, our head mechanic Steve has over 20 years of experience with these special cars, so you can be sure your car is in the best hands! We are featured in Mazda MX-5 Renovation Manual by Paul Hardiman.

We offer a wide range of additional services including repair, restoration, fitment of new parts such as lowering springs and new hoods. Please get in touch with Sam and Steve to discuss your requirements, we would be delighted to hear from you!
The MX-5 Servicing Specialists based in the Midlands
MK1 (NA)
Cambelt Service
All belts changed oil and filter change air filter all fluids checked and topped up wheels off brakes checked is £225+vat
Full Service
£169+vat
Interim Service  £110+vat
1.6 or 1.8 Clutch fitted £300+vat
MK2/2.5 (NB)
Cambelt service
All belts changed oil and filter change air filter all fluids checked and topped up wheels off brakes checked is £225+vat or 1.8 vvt is £250+vat
Mk2.5 Clutch judder Issue
£389+vat for new clutch and flywheel skim
New Chassis Rails
£400+vat per side to supply and fit new chassis rails
MK3/3.5 (NC)
Interim Service
£110+vat
Full Service
£149+vat
Full Service
with new spark plugs
£225+vat
Fitting new Springs
£40+vat per corner
(springs not included)
Steve did an excellent job tracking down the fault and fixing the issue, and did it all for a remarkable price. Then I turned up to find my grubby car had even been washed! Absolutely outstanding, cannot recommend enough.
CARS FOR SALE: CURRENT STOCK
2003 Nevada £5995
1.8 Nevada 6 speed rear subframe re powder coated stainless steel exhaust new chassis legs fitted. Full re spray rear, quarters repaired, must be one of the nicest mk2.5's available!
1996 VR Ltd Roadster £6495
1996 1.8 Eunos Roadster VR Ltd Combination B. 1 of 800. Brand new green mohair hood, fantastic condition. A rare opportunity!
1989 Eunos Roadster £10995
Chassis 17 is for sale! One of the oldest Eunos Roadsters in existence. Fully restored by Sam Goodwin and in immaculate condition. Viewing on appointment. More details to follow.

XJ 3.4 Litre Prototype Coupe
Chassis No 2G1001 – The first XJ coupe produced XJ12C. It was built and used by Jaguars Experimental Department where it was fitted with the XJ 3.4 engine and manual / overdrive transmission.
The 3.4 engines never went into production so its an interesting combination.
Currently undergoing an exciting fully comprehensive restoration here at Sam Goodwin.
The planned completion of this very special project is late summer 2020. If you would like to know more please get in touch with Sam.